Upgrade works start on Cambridge Road, St Neots
Work is being carried out to support the eastern expansion of St Neots and provide a new gateway to the town.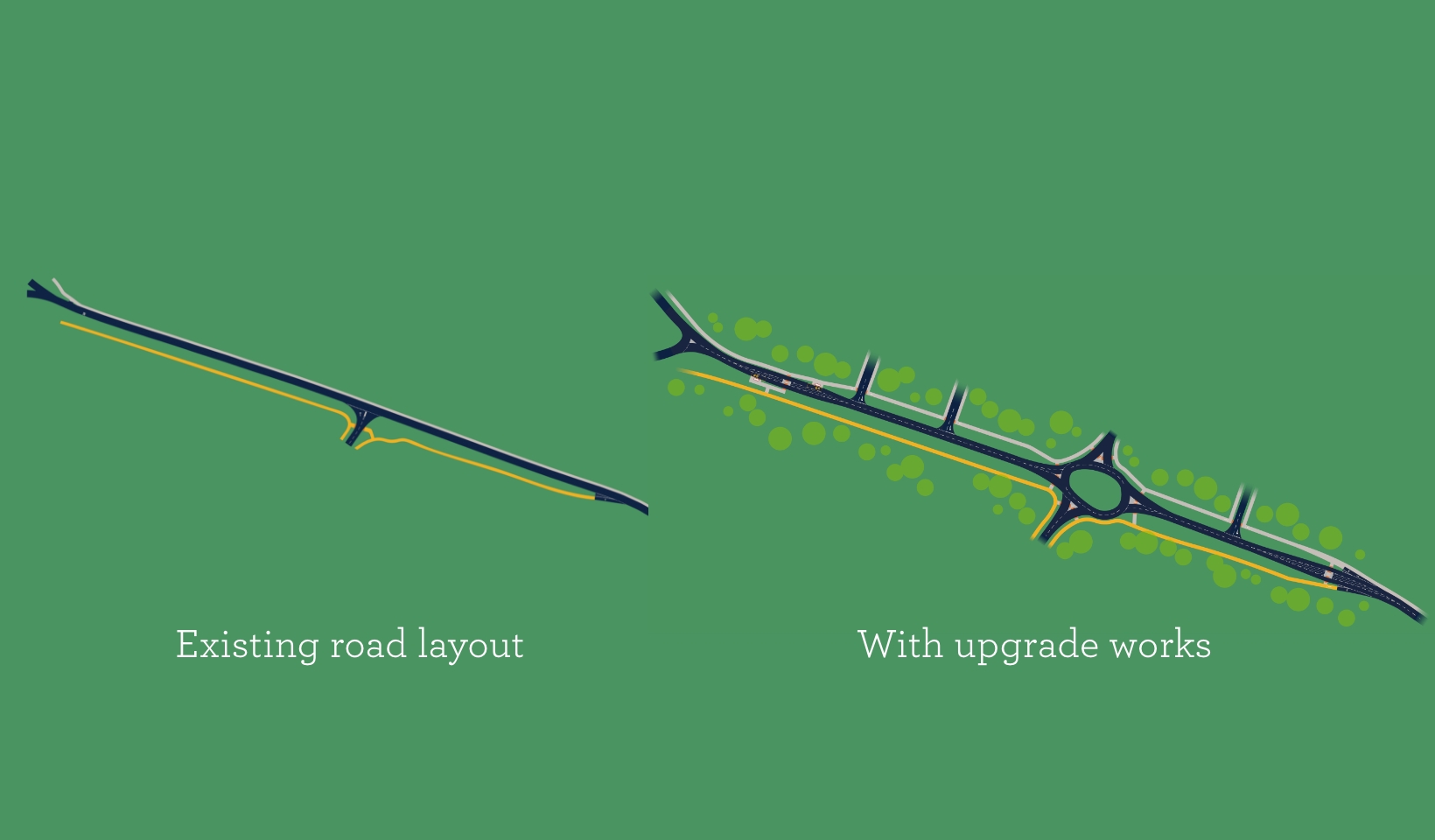 Work is being carried out to upgrade Cambridge Road (B1428) between the A428 junction and the Bret Road roundabout at Wintringham. This will support the eastern expansion of St Neots and provide a new gateway to the town, as well as better connections for existing and new residents at Wintringham and Monksfields, the next phase of Loves Farm.
The upgrades will include a roundabout at the Pelham Road junction (to replace the existing T-junction), three new junctions to serve the future Monksfields development, new cycle paths, bus stops/shelters and pedestrian crossing points. The new design will also make the route safer for all users and will enable a 30mph speed limit to be implemented once complete. A range of utilities and services will also be installed underground, along this route, as part of this work.
The work will be carried out in phases from 17 November 2023 over the next 36 weeks, with a six week break over the Christmas period. There will be some preliminary works ahead of this, for ground preparation and to set up compounds.
From 17 November until the 1 December traffic management will be in place. Two-way traffic lights will be in use on the eastbound carriageway from 9.30am to 3.30pm. Beyond this date, regular updates on changes in traffic management will be provided as the scheme progresses.
The working hours are from 7.30am to 6.00pm Monday to Friday, and 7.30am to 1.00pm on Saturdays. Temporary traffic management will remain in place throughout this period, although no Sunday or Bank Holiday working is currently planned.
No closures of Cambridge Road and subsequent diversions are required for the early phases, however, there will be requirements towards the end of the works when the new parts of carriageways are connected to the existing. Some footpaths will also need to be closed for health and safety requirements; advance notice and signage will be provided.
The work forms part of commitments from both Wintringham master developer Urban&Civic and Monksfields developer L&Q to carry out upgrades to Cambridge Road.
Paul Murfin, Communities and Partnerships for Urban&Civic, said: "We have worked hard with L&Q, utilities and service providers, and the Highway Authority to design the scheme and develop this programme to ensure the upgrade works to Cambridge Road are delivered in one coherent programme.
"We know that the length and location of these roadworks will cause issues for local residents and those travelling around St Neots, and we apologise for the inconvenience. We will continue to work with the contractor to minimise the impacts as well as ensuring future road closures and diversions are well signposted and notified in advance.
"When complete the works will provide a number of the benefits that we have been discussing with Wintringham and Loves Farm residents, including better cycle and walking provision on the north of the road, safer crossings and a reduction in speed limits. We are pleased we have been able to bring forward the timing of these works and, working together with L&Q, to be able to carry them out as one coherent package, so there is only one period of disruption for our residents and neighbours."
These improvements, which mark the second phase of works to upgrade Cambridge Road as the main Eastern Gateway to St Neots, will be carried out by NATTA Building Company and are due to be completed in summer 2024.
Click here for more details and regular updates on these works, see our dedicated page and the Wintringham and Love's Farm Facebook community pages.
---