Education at Wintringham
Wintringham will provide two new primary schools to the area. The first, Wintringham Primary Academy, is set at the heart of the Wintringham community and the second will be built in a later phase of the development.
Wintringham Primary Academy
Initially opened in September 2018 at The Round House Primary Academy in Loves Farm, Wintringham Primary Academy moved to its new home at Wintringham in November 2020.
The Academy is managed by Diamond Learning Partnership Trust, which encourages every child to achieve the highest possible standards through outstanding day-to-day teaching and assessment, an exciting, relevant and inspiring curriculum and excellent support for every child.
Wintringham Primary Academy encourages children to be the best that they can be, with creativity and independent learning a cornerstone of its education philosophy. Through good learning practices and a shared love of learning, the Academy equips its pupils to understand the world and find their place within it.
An early years' provision will be opening at Wintringham Primary Academy from 9am until 3pm Mondays to Fridays during term time from September 2021.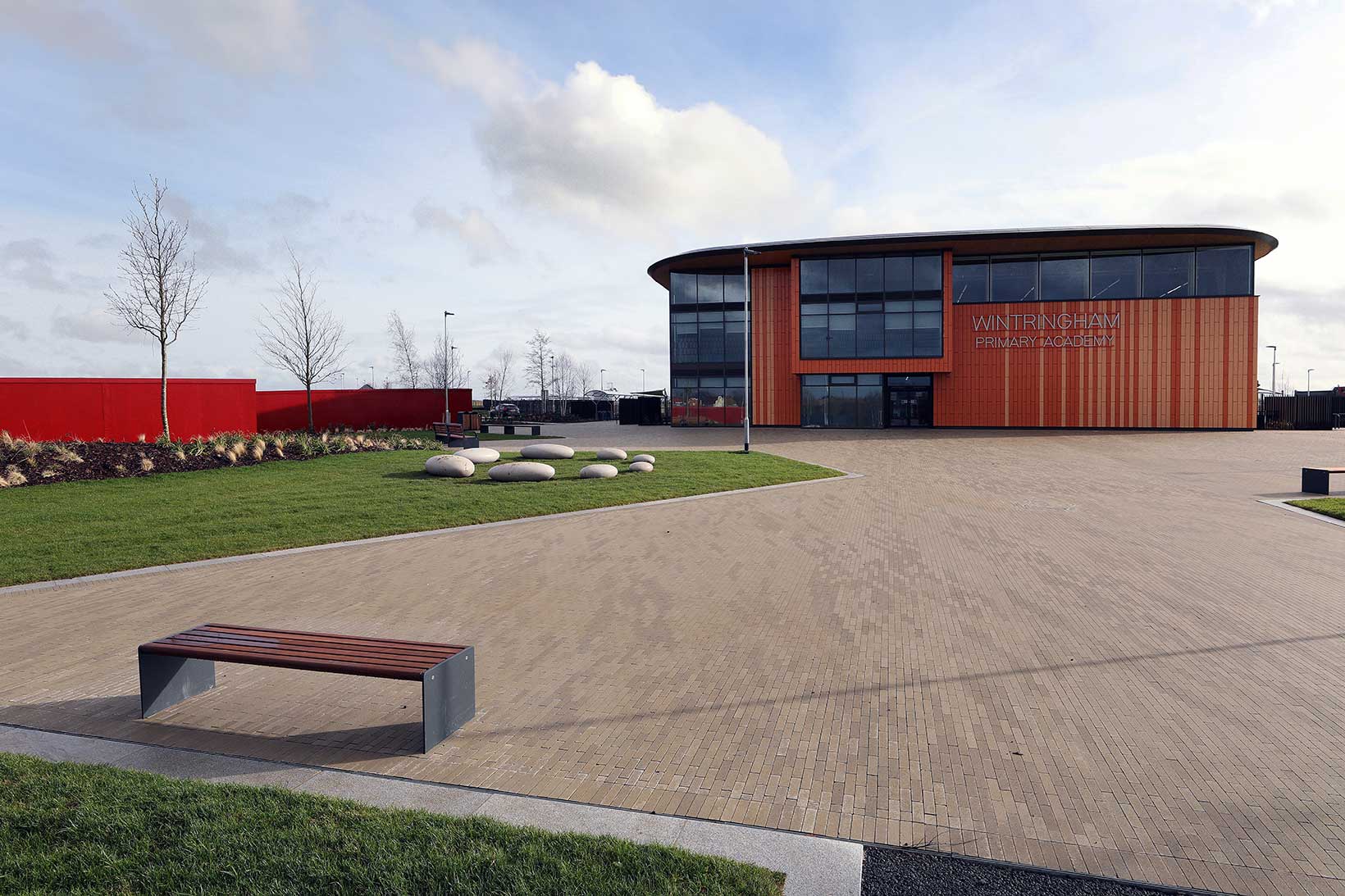 Watch the school come to life through the timelapse video
Explore Wintringham Primary Academy
Designed by architects DRMM, this three-form entry school was designed inspired by forest school principles. Classrooms enjoy landscape views on two sides, centred around an exceptional woodland grove, whilst also having views out towards the surrounding landscape; bringing nature right into the classroom. The woodland grove is central to the learning ethos of the school, and can also be used as an outdoor teaching space. What are you waiting for? Explore it now!
Inspired by Forest School principles
Following the philosophy of 'Forest Schools', Wintringham's first primary school has been designed to help encourage and inspire pupils to develop confidence, self-esteem and skills through positive outdoor experiences in a woodland or natural environment. The landscape design, categorised into four forest themed areas - The Grove, Forest Edge, Forest and The Clearing - creates a holistic learning environment.
The unique, central 'forest-like' courtyard, The Grove, brings light and warmth into classrooms and beyond, blurring the boundaries between formal and informal learning and bringing outdoor learning into the classrooms, with dual aspect views contributing to an improved learning environment.
The Forest Edge is the space directly outside the building, incorporating external break-out space for formal and informal teaching as well as informal play during break times. This space is lined with a series of large feature trees that help to define the space without the use of physical boundaries.
The Forest area connects to the Forest Edge and The Clearing, providing defined spaces for external classroom activities. Throughout the forest area there are set teaching spaces linked together by forest trails and openings within the wooded areas.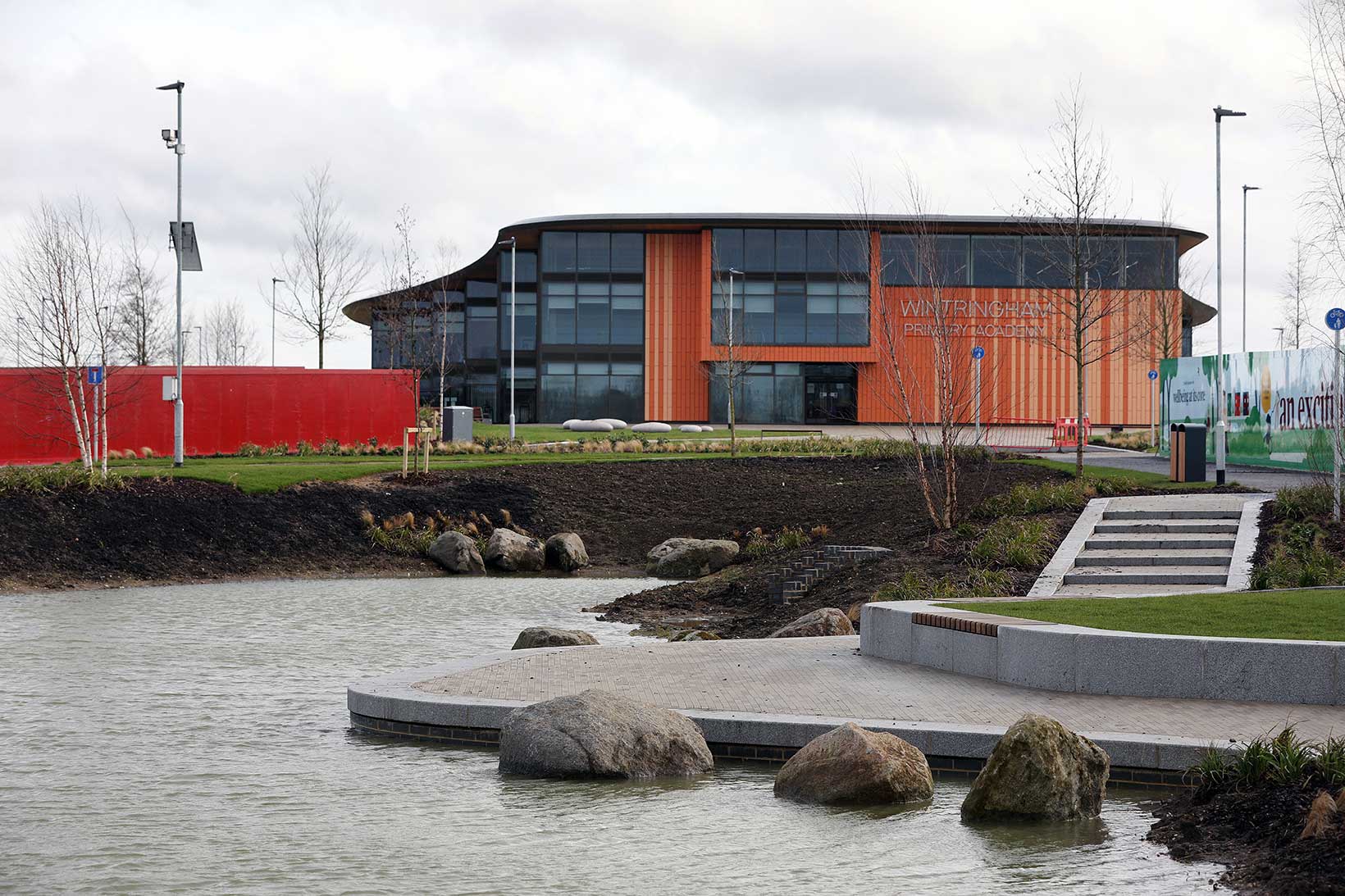 Living at Wintringham Podcast
What's it going to be like to live in Wintringham, St Neots?
Contact us with your commercial enquiries.