Location
Wintringham is located on the eastern edge of St Neots, approximately 1.5 miles (2.5 km) to the east of the town centre. The site is currently agricultural land, with the new development of Loves Farm immediately to its north.
---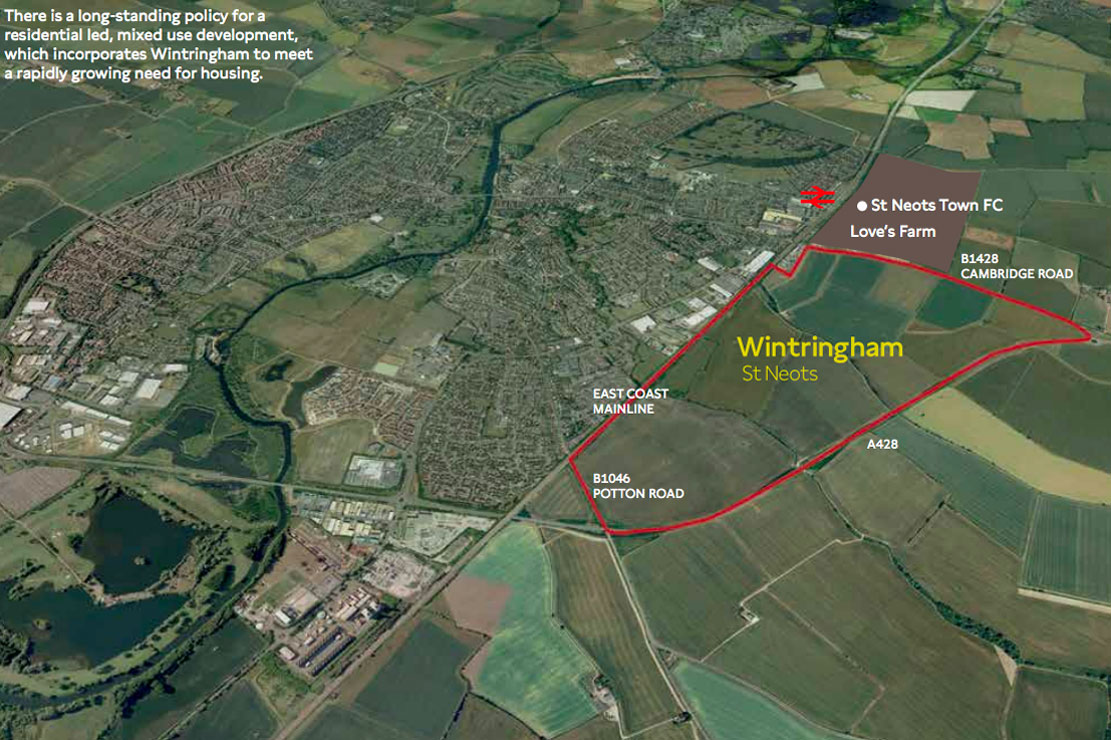 The site has been an established location for growth since 2009, as set out in a number of strategic planning documents, including:
Huntingdonshire District Council (HDC) allocated the site for development in the Adopted Core Strategy (2009).
The St Neots Eastern Expansion Urban Design Framework (UDF) was published in2010 to provide further guidance, help to shape communities and serve as a blueprint for the future use of land, taking account of local needs. This covers the area of Wintringham and the time period of development – 2010 to 2026. Its policies will be used to control development and guide most day-to-day planning decisions
Since then, in 2014, the St Neots Neighbourhood Plan was approved covering 2014-2029. This sets out a series of objectives for the future growth of St Neots, as well as core guidance on transport, greenspace and water management, community facilities and shops and services, and economic opportunities. All future developments need to reflect this and support its delivery.
Following local consultation, the new application – with the vision captured here – was submitted in October 2017, with the District Council giving "Resolution to grant" planning permission in March 2018 and the and Section 106 signed in early November 2018. This provides the full planning framework for the creation of Wintringham to begin.

The Previous Application (2013)
An Outline Planning Application for the development of a mixed use urban extension to include 2,800 dwellings and up to 63,500sqm of employment was submitted to Huntingdonshire District Council on 14 February 2013 by the Wintringham Park Consortium. The application was refused and subsequently appealed. The appeal was withdrawn in May 2017 and the consortium disbanded. Since that time, Urban&Civic has bought into the landowning partnership alongside long term owners, the Nuffield Trusts and been appointed Development Manager. The new design team has worked through the various issues identified during the planning process to date and developed fresh proposals in discussion with key partners and stakeholders that set out an ambitious vision for Wintringham and an aspirational eastern gateway for the town.