We know that traffic is a real issue for many local residents at the moment. That is why we are investing in cycle, pedestrian and public transport links, to help get people into the town centre without clogging up the roads and in a safe and healthy way.
---
Investment in walkable neighbourhoods, with easy, safe access to facilities. We will do this by:
This will be delivered in three ways:
Ensuring at least 80% of homes are within 800m of schools, shops and services 
Traffic Management including limiting speeds to 20 - 30 mph
Footpath and cycleway connections to link in with the existing footpath to St Neots, Love's Farm and the countryside 
Investment in wide and safe off-road combined cycleway and footway links. 
Investment in public transport provision
A safe an attractive cycle and pedestrian route to the railway station 
Bus services which link well to rail and strategic express bus services and to key centres of employment
Ensuring that at least 70% of homes are within easy walking distance (400m) of at least one public transport stop.
---
Backing the bike, through:
The creation of nearly 9 kilometres of cycleways, including perimeter trails and links to local cycle networks
A core cycle route along Cambridge Road to provide a new 'super cycle' connection into St Neots
Cycle connections which reclaim the underpasses, enabling safe access to St Neots and Love's Farm and the railway station
Creating a cycle culture through incentives for new residents and initiatives across the town and District.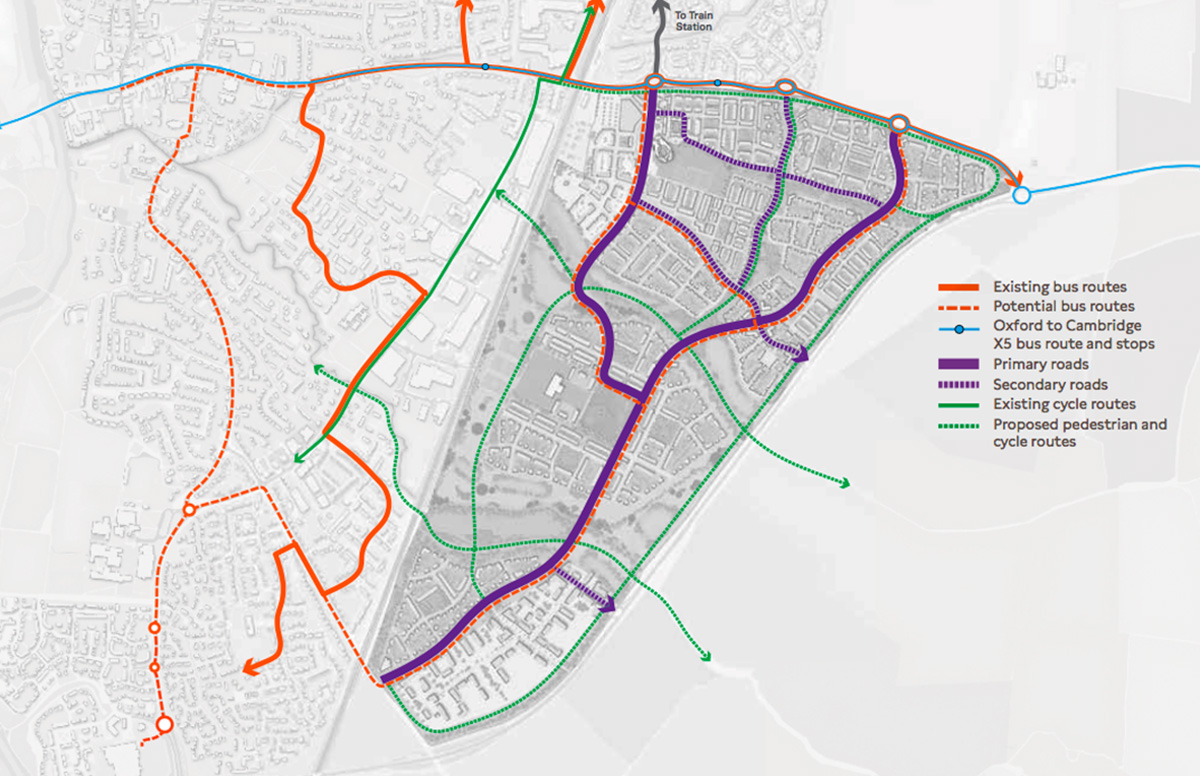 Improving Road links
Alongside these commitments, we will be investing in a series of access points to manage flow from the development onto the local network, and a range of capacity improvements across the local road network to address existing pinch points.
Strategic investment
This development is coming forward alongside significant investment in the strategic road network and public transport infrastructure along the 'Varsity' corridor. While the transport approach has been tested without the new upgraded A428 being delivered, the upgrade is scheduled to happen alongside the delivery of the first phase of development, with the route likely to be the one most advantageous for St Neots.