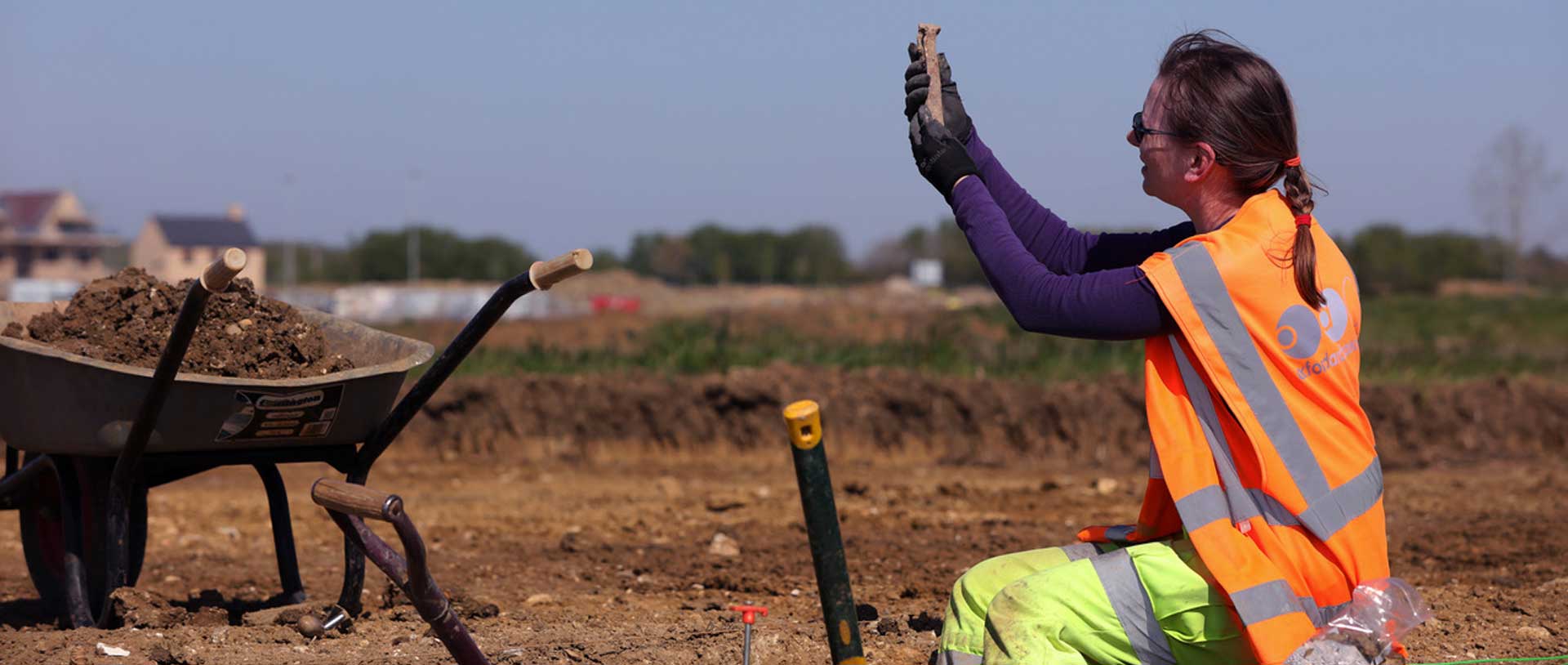 Archaeology at Wintringham
Oxford Archaeology East is carrying out excavations at Wintringham to understand and record the archaeological and historical context of the site before development work takes place.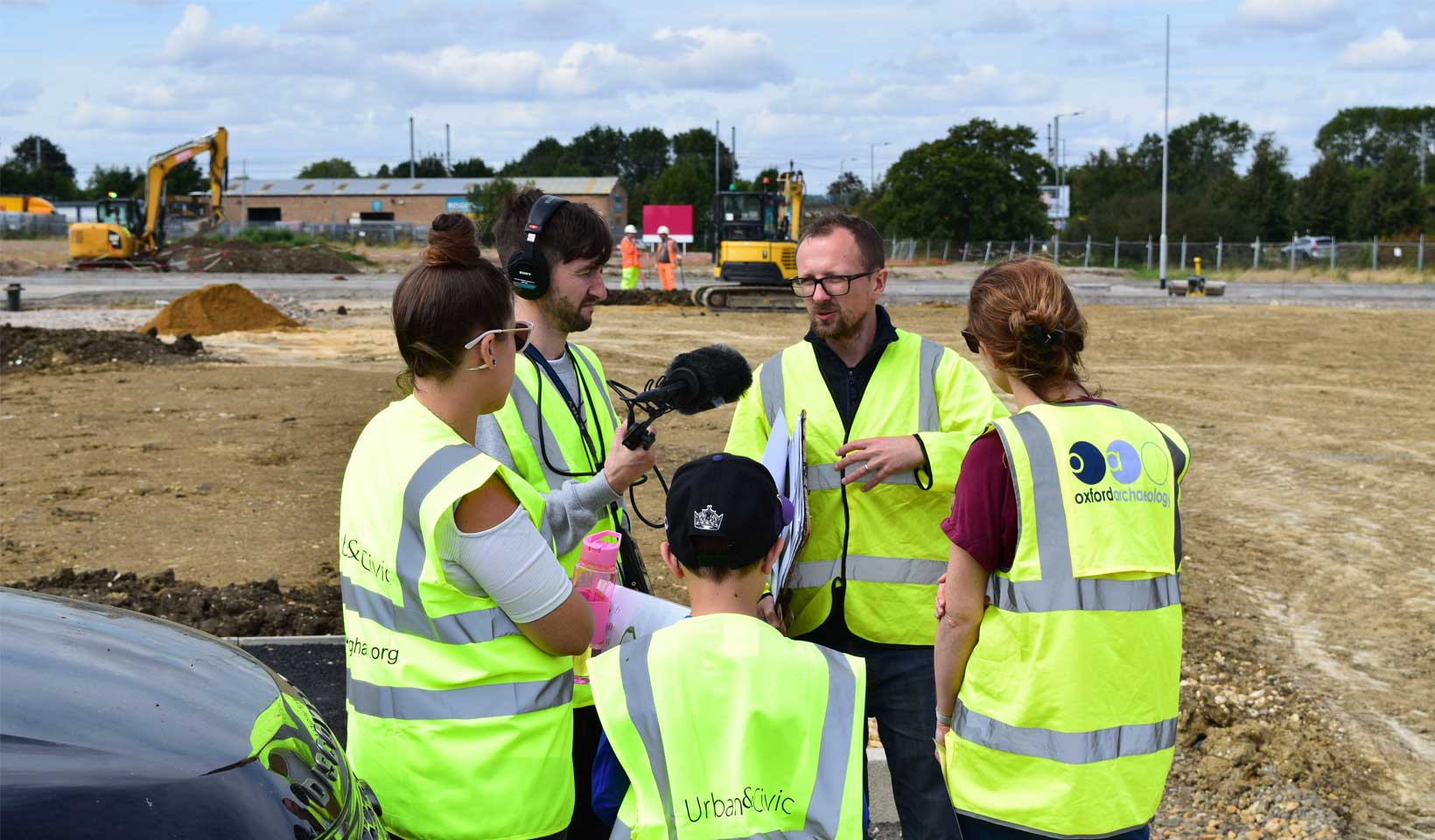 Looking at Wintringham's past
The first excavations that have been carried out at the north of the site, adjacent to Cambridge Road, represent about 5% of all the archaeological investigations that will be undertaken at Wintringham.
Who lived at Wintringham?
Early excavations have revealed evidence of several later Iron Age (c. 400-100 BC) roundhouses. The Iron Age families who lived on the site over 2,500 years ago were farmers who grew cereal crops and kept cows, sheep and pigs. It has been fascinating to discover that in some cases, tracks and field boundaries from this period linked to similar features at the Loves Farm development.
Fragments of Iron Age pottery also provide an insight into the vessels used by those living and working on the land. Desk-based assessment, field evaluation, review of previous archaeology work within the area, air photography surveys, geophysical surveys, field walking and trial trenching has helped identify potential areas of previous inhabitation at Wintringham dating back to the Neolithic period (c. 4000 – 2200 BC) through to the end of the Romano-British period in the early 5th century.
The presence of ridge and furrow earthworks demonstrates that the area continued to be used for agriculture into the medieval and post-medieval periods.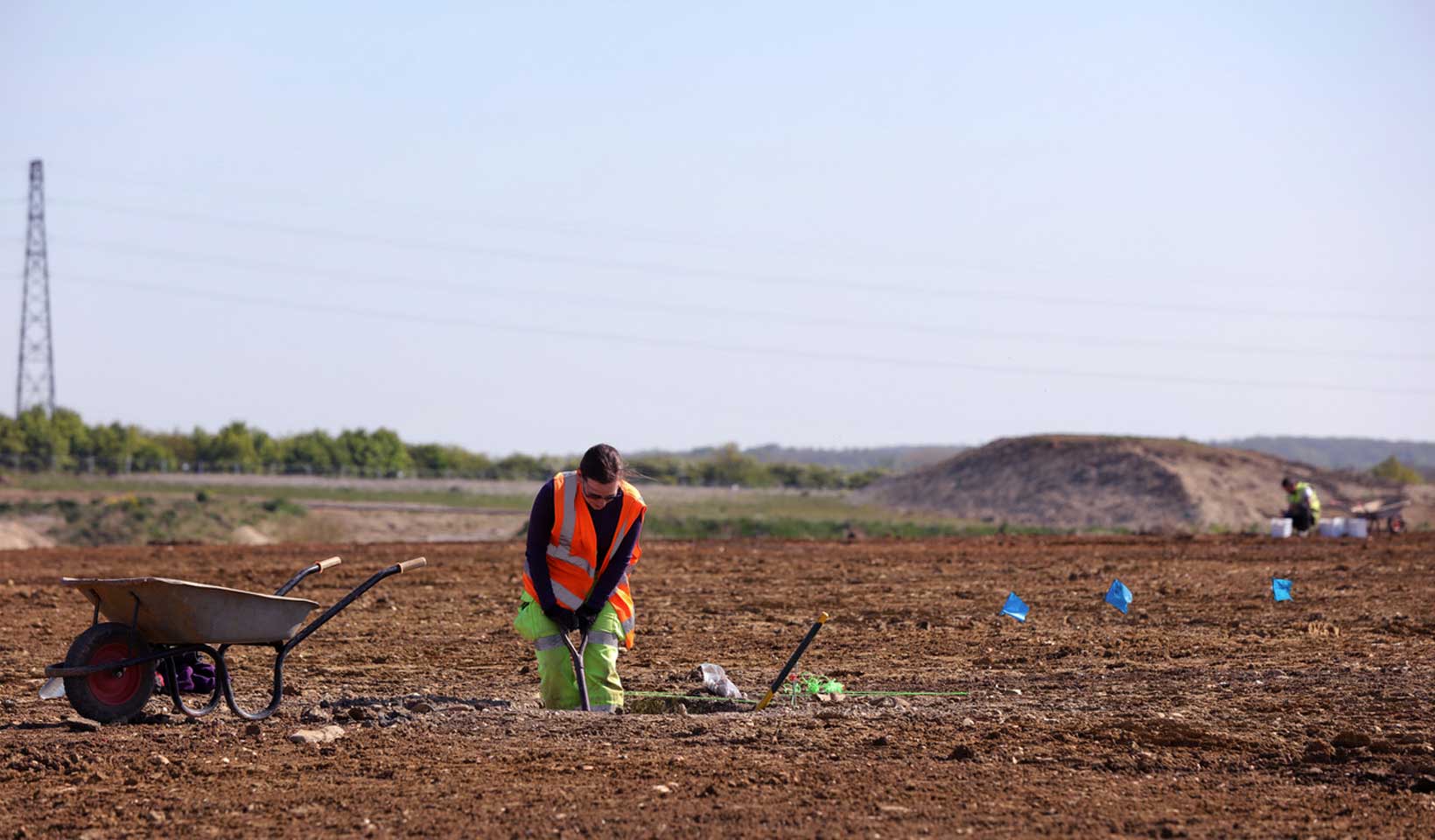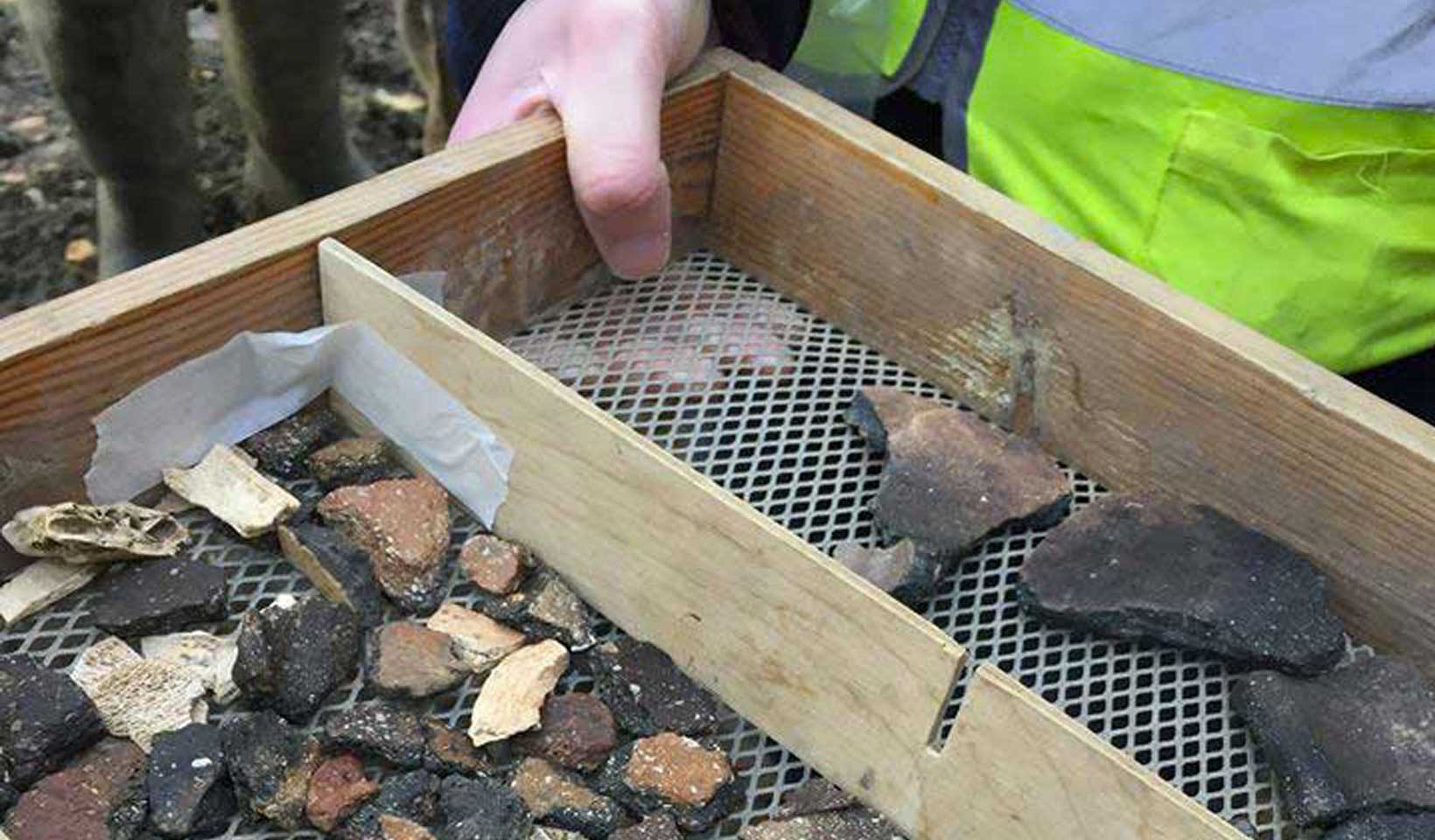 So far, our understanding of the early history of the site is evidenced through roundhouses, enclosures, tracks, wells, pits and post-holes, as well as ridge and furrow earthworks. Early investigations have also uncovered a range of artefacts including pottery and coins.
All findings will be investigated and documented to help increase our understanding of the people who lived at Wintringham and worked the land through the centuries. We are working with the archaeology team and the local museum to find ways to display items of greatest interest.
Archaeology at Wintringham Podcast
In this episode we journey back in time to find out what life might have been like for the pre-historic residents of Wintringham and find out how those discoveries are shaping the new development.
Archaeology news at Wintringham St Neots
The latest archaeology news stories from Wintringham St Neots.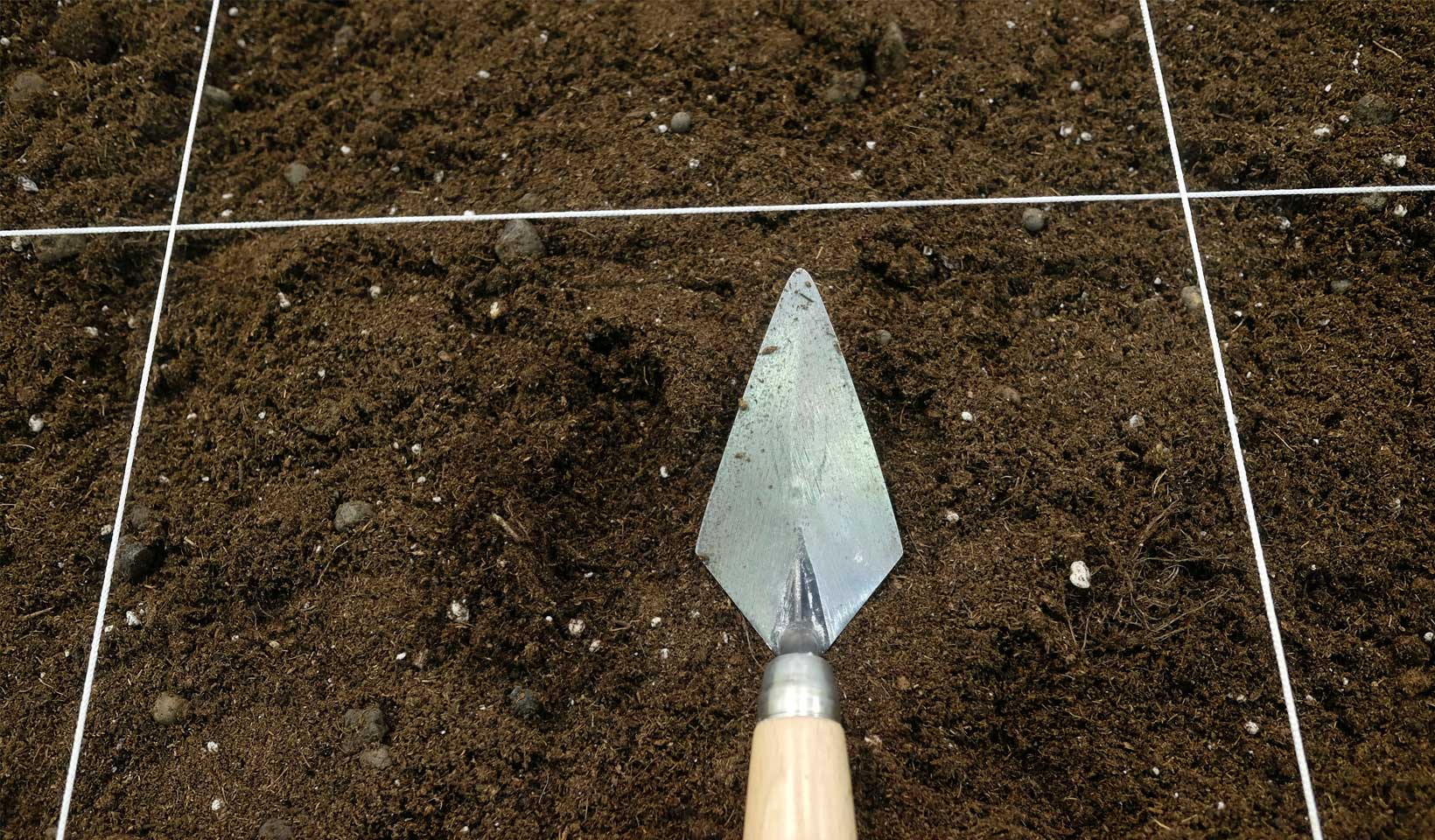 Can you dig it? Yes you can
More archaeological digs are planned in 2020 and we are hoping to open some of these up to members of the local community. There could also be opportunities to help wash artefacts and help catalogue them as the project progresses. Other activities are likely to include open days, talks, pop-up exhibitions and online updates, which will provide opportunities to meet the archaeologists working on site, ask questions and find out more about these exciting discoveries on your doorstep.
Keep in touch with the latest Wintringham news updates – directly to your inbox.