Couple follows dream of home ownership and starting a family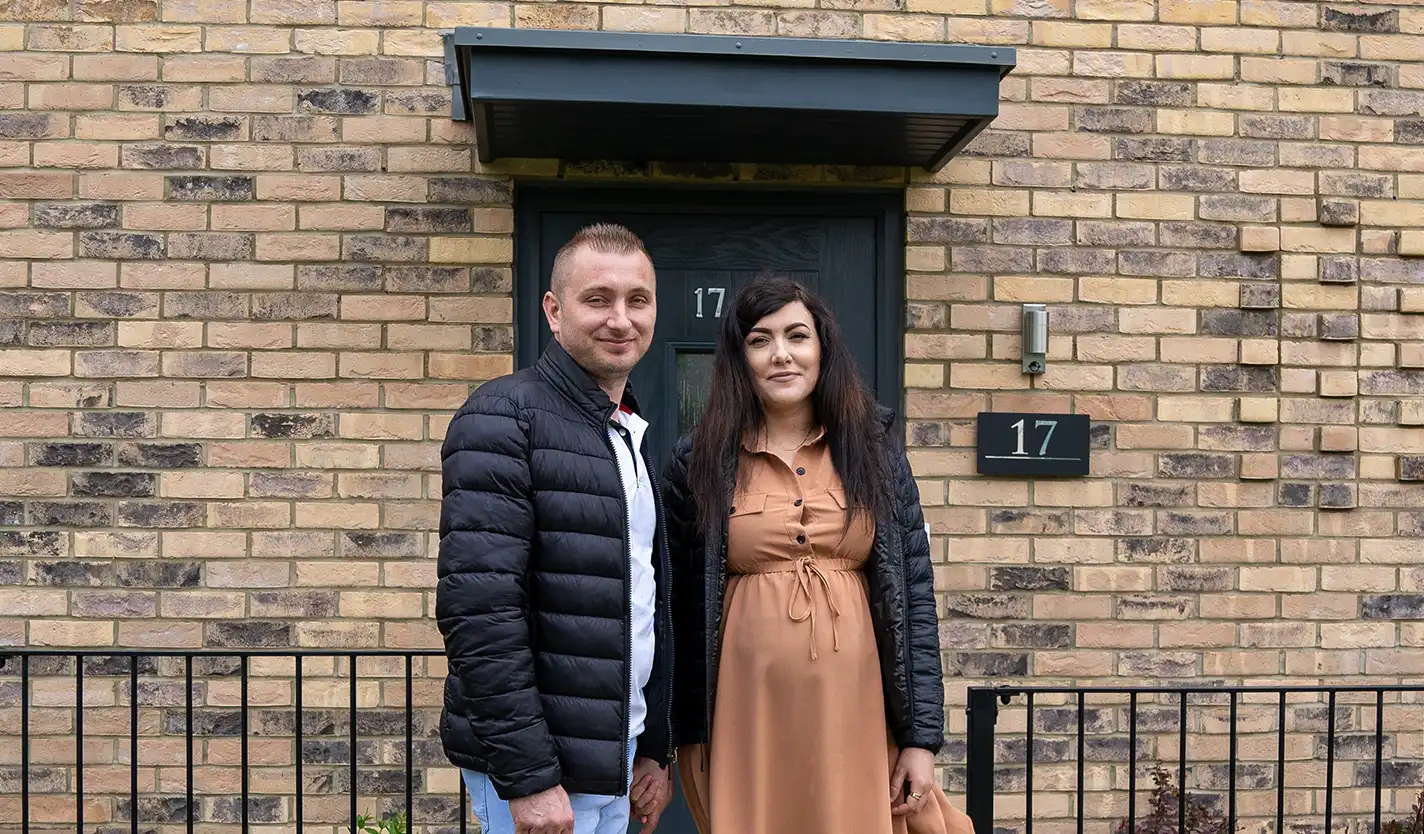 Ciprian and Dana left the busy borough of Enfield, North London to follow their dream of home ownership and starting a family.
They've made their dream a reality with Durkan Homes at Wintringham – a world away in terms of the peace, tranquillity and community feel on offer.
"We'd been renting a terrace house in Enfield for about ten years," explains Ciprian, a plumber by trade. "We wanted to move out of London because it was just too expensive to buy there, but also because we wanted to start a family and were looking for a different type of lifestyle."
For Dana, who was working as a nanny in London, proximity to family was particularly important and with her twin sister less than 30 minutes away in Bedford, St Neots offered the ideal location. "We knew we wanted to start a family and I wanted to have my sister close by to help," she explains. "It all worked out perfectly because just a week after moving in, we found out that I was pregnant."
The couple has bought a three-bedroom detached home from Durkan Homes on the charming Wintringham development, just a short stroll from the market town of St Neots, with its rich history and abundance of independent shops and eateries. Surrounded by green space, and with a network of walkways and cycle paths weaving through the new mixed-use neighbourhood, it felt like the ideal place to put down roots as Dana explains:
"Enfield was crazy – it was all traffic and chaos. This is very different. It feels calm. We're surrounded by nature – we can walk in parks and in the countryside, but I don't feel like we're missing out on anything. St Neots has got good supermarkets, coffee shops, pubs, and restaurants, and it's so quick and easy to get into London or Cambridge. There are nurseries nearby and a lovely primary school that sits within the new neighbourhood too, so it's the perfect place to raise a family."
The couple benefited from one of the multiple homebuying incentives on offer at the development. "We were saving for four or five years to buy a house," says Ciprian. "The incentive we benefited from at the time meant the deposit was a lot smaller than it normally would be and we were able to keep some of our savings back for furniture. We're furnishing it bit by bit – Dana is very particular about what she likes!"
"This feels like a real investment for the future," adds Dana. "We feel like we have really achieved something buying this home, and it's given us some stability. That's especially important now with a baby on the way."
With a range of housebuilders offering homes in the Wintringham community, it was the Durkan Homes' properties that really stood out for the couple. "We were looking online," says Dana. "The Durkan Homes really stood out for us – everything from how spacious they are inside and the quality of the fixtures and fittings, to the external appearance. The colour of the bricks is unique, the homes are so much more than your average new build."
"I love the master bedroom and fitted wardrobe, and how big and spacious the bathrooms are," she continues. "We both love the living room – it's so much more spacious than other new builds. The windows are big too and let plenty of light in. In the kitchen there's space for a dining table so we can eat together as a family and have people over. I love cooking so the kitchen had to be good."
For Ciprian, car parking and outdoor space were particularly important to him. "I'm still working in London, and the great thing is that I can drive there in less than an hour. It used to take me that long just to cross London for work, but what's nice here is that at the end of the day I come back to peace and tranquillity. I love coming home – it's quiet and relaxing, there's no stress."
Part of that stress used to relate to the daily hunt for car parking in Enfield, with Ciprian often forced to park several streets away from home. "It was a nightmare parking in London. You just don't need that after a busy day. Here, I have a car port and two parking spaces – it's great!
"I always said I wanted car parking and a big garden. Now I've got both. The garden here is huge! It'll be perfect for the baby but also for hosting friends and family and having barbeques in the summer. I'm happy!"
Both Dana and Ciprian have been impressed by the quality of their home. "We just can't fault it," says Dana. "Any snags were really tiny – a small scratch on the paintwork, something like that, and they were all sorted straight away. Even the soundproofing is impressive, which we didn't expect from a new build."
"I love listening to loud music," laughs Ciprian. "I tested it, and noise really doesn't travel from room to room or from inside to outside. It means I can turn the volume up, without bothering the neighbours! It's probably a good thing with a baby on the way too."
"The whole Durkan Homes team is great," adds Dana. "They're really friendly and helpful. Harriet was our day-to-day contact, she gave us her mobile number and said to call her if we needed her. There's an online portal too which is helpful. It lets you log any queries at a time that suits you, and the response is always really prompt."
"We're so proud of our new home. We've had all our friends from London over and they love it," says Dana. "Durkan's homes really are amazing, they are just beautiful, and we love showing off where we live! We're even talking about getting both our sisters to move here. The Wintringham neighbourhood has four phases so it would actually be possible. We're encouraging everyone to come – you really do get the best of both worlds and we're so excited for what's ahead."
Hear Dana and Ciprian tell their moving story.
To find out more about Wintringham and the great range of homes available to choose from, visit our Homes page.
---