Case study | Newlyweds leave soaring rents behind to start family life in Wintringham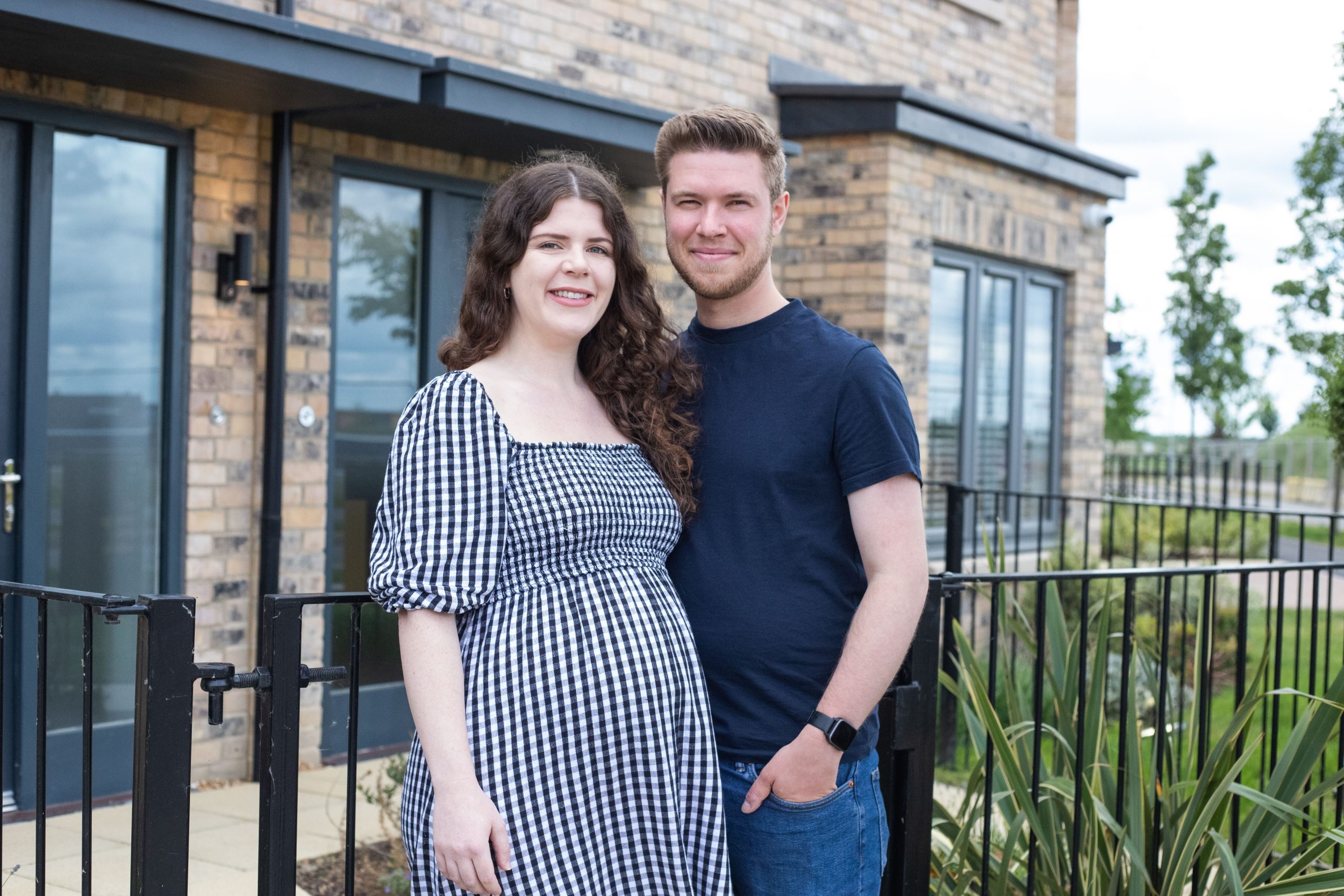 London-leavers Toby and Rebecca ditched soaring rental prices in the capital to buy their first family home at Cala Homes' Wintringham, St Neots.
Cala's 178 properties at Wintringham range from one and two bedroom apartments, to three and four bedroom homes, just a few miles from St Neots' historic town centre. The development is only 10 minutes' walk from the train station, and boasts a nationally recognised primary school, making it the perfect location for growing families.
Toby said: "We recently got married and both want to start a family soon, so we were on the lookout for a family home which we'd be able to grow into.
"We were renting a flat in South London before, but we were desperate to buy, as rental prices just keep on rising. We were paying £1,500 a month on our two-bed maisonette with a tiny garden and very noisy neighbours; we felt a bit trapped in a never-ending cycle of rentals.
"We knew it wouldn't be an option to buy in the capital because of the prices – we would have only been able to afford a small flat, which just wouldn't be suitable at all."
Rebecca added: "After some intense googling, we discovered the Help to Buy scheme, and we knew right away we needed to get onto the housing ladder and out of generation rent."
For the same price as a two-bedroom flat in South London, Toby and Rebecca purchased Cala's three-bedroom Ellington for £360,950 at Wintringham, a three-storey semi-detached home with a dedicated study.
Recalling the couple's move onto the development in December 2021, Toby commented: "We knew we had to have enough space to both work from home, and plenty of room for the new baby when she comes, in a location which could provide us with easy access into London when we needed it."
Although situated in the Cambridgeshire countryside, Wintringham's train station connects the development to central London in under an hour – making it ideal for those wanting easy access into the city.
Thanks to the move out of London, the couple managed to get their foot on the property ladder in a larger home, with similar monthly outgoings, without that money being wasted on renting. And with the cost of energy prices going up recently, the pair have also saved in the long-term moving to a greener new build.
With new homes generating only a third of the carbon produced by the average older property each year, the couple's impact on the environment and climate change is far lower than that of older housing stock.
New homes are built to a layout which optimises insulation and airflow, which means 84% of new builds are rated A-B for energy efficiency, compared to just 3% of existing properties.
According to Rebecca, they chose Wintringham for many reasons, but mainly because it aligned with all the must-haves on their property checklist.
She said: "I had a crazy Excel spreadsheet of locations, detailing house prices, nurseries, distance from parents, and commuter costs – as at that point we thought we'd be heading into London every day.
"Wintringham just ticked all the right boxes. The train station is only a 10-minute walk away, which is so helpful getting into London. There's an excellent school a stone's throw away across the road. We read about just how good the school was in the Guardian, which was a real plus point, especially since we're starting a family."
Rebecca's baby is due in August 2022, so the couple have been busy transforming the home office into a nursery.
"Decorating is still an ongoing process – but we're hoping to start painting soon, so I'll be kicked out of the office by the end of the month!"
But the process wasn't all plain sailing for the couple.
Toby explained: "Our mortgage offer looked like it might expire before the home was ready to move into. Unfortunately, it turned out that our lender wouldn't give mortgage offer extensions on newbuilds, which meant we absolutely had to complete before our original offer expired or we'd be thrown out of our old rental property with nowhere to go.
"Cala were totally amazing about it, particularly Martin and Ryan in the sales office, who couldn't have done more for us. Once we explained the situation, they had the team working evenings and weekends to get our home ready on time. We were really down to the wire; I think we finally got the go-ahead about 20 minutes before our offer was due to expire."
Rebecca added: "They even booked a hotel for us and my parents, just in case!"
Another unexpected help from the Cala team was a little more personal, as the sales team gifted the couple with a John Lewis voucher for their new arrival.
Toby added, "It was £2,000, which was completely unexpected; we were really shocked at their generosity. Obviously, we spent it on baby things ready for our new arrival."
Watch a short video on Toby and Rebecca's move to Wintringham here. 
---