We know places are about far more than houses. To make a community you need amenities for people to come together and to access services and facilities.
This development will be supported by key facilities, in accessible locations. By clustering facilities together, we hope to create dynamic hubs, supported by parking and public transport connections, where people can meet up and play an active role in their new community.

Schools and Early Years provision lie at the heart of these centres, supported by a range of other facilities. We know there is an existing challenge for school places in the area and have been working closely with the County Council to develop exible plans which allow early delivery of a school by September 2018. 
---
In total the development will deliver:
Primary Schools, including:
Land set aside for a temporary primary school with the potential to open in September 2018, to address the immediate pressure on local primary schools
Two permanent primary schools, which have the exibility to expand from 2 Form Entry to 3 Form Entry if required. The first would be open from September 2019 for the rst residents moving in
Early Years provision as part of the school building, with the potential for additional family support services. 
Formal and informal open space, recreation facilities and landscaping including: sports playing elds and changing rooms, local and neighbourhood play areas, multi-use games areas, wildlife habitat areas and allotments
---
A District Centre and a Local Centre providing services on your doorstep including health services, a library, faith space, and places for local clubs and groups to meet
---
Primary Schools, including:
Up to 7,100 sq m of retail development, which will be developed to complement (not compete with) St Neots town centre.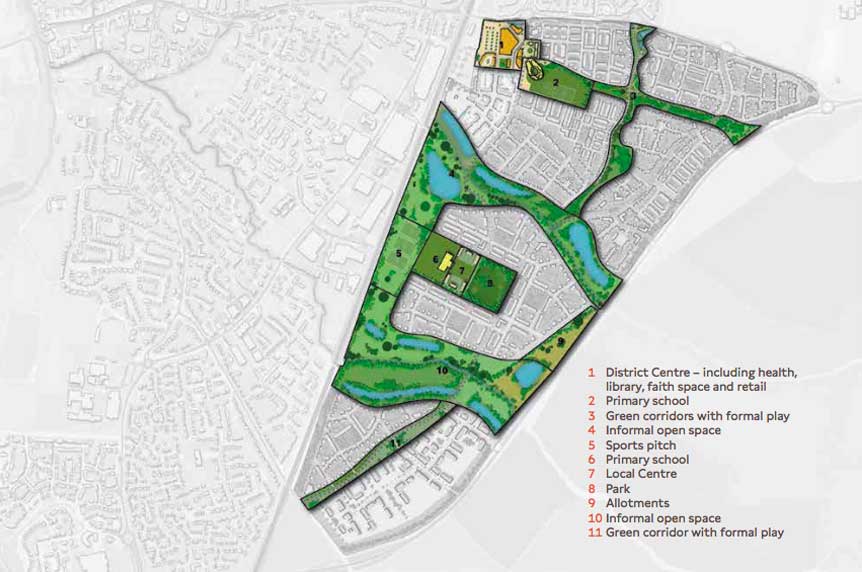 Heart of a new community
As part of early delivery of public spaces and community facilities, we are investing in a central hub which will form the District Centre. This will be rolled out alongside the first homes and include a school, early years facilities, health services, a community building including the EDGE jobs brokerage, a café, gym and small shops.
Health at the heart of new communities
The Wintringham Partnership is made up of Urban&Civic and the Nuffield Trusts, who have come together to fuse their skills to deliver the legacy gifted by Lord Nuffield and to be delivered in a way which maximises economic, environmental and social bene ts to the wider area. Health is a particular area of focus for the team and a number of initiatives are being developed including:
— Early health facilities on site and a vision for innovative and integrated health solutions
— Access to walking and cycling routes to encourage active lifestyles and travel options
— Access to affordable produce from local farms as part of the retail and community offer of the Local Centres.
We will continue to work up detailed options for these, and will also be working with a health researcher to monitor the long term health bene ts of the development in the future.
---